Do you have a rooster in your kitchen? There's a legend/myth/saying that if you have a rooster in your kitchen it will protect you from bad luck. Or bring good luck, one of the two. Most Southern kitchens have a rooster of some kind, somewhere in their kitchen.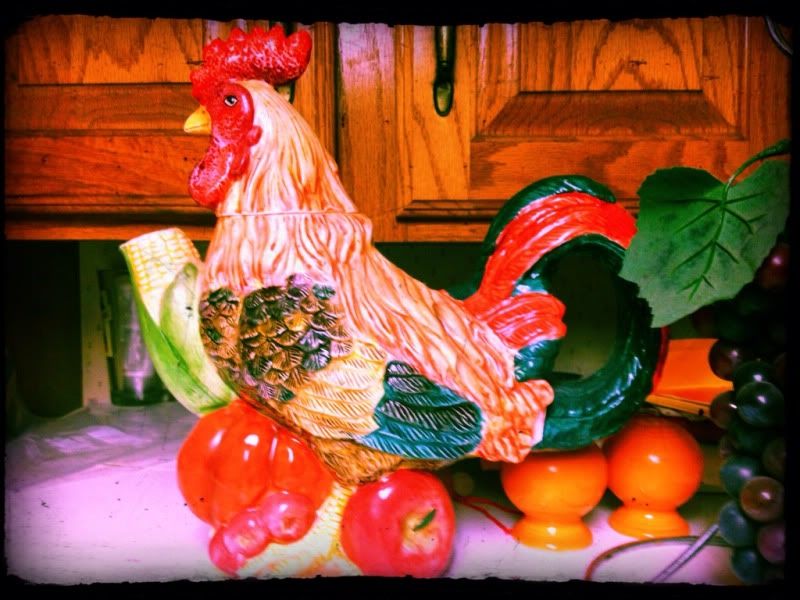 Mom gave me this one a long time ago. Now, she and Dad don't believe in good luck or bad luck.  Never. Dad, who reminds me of Sheldon on the Big Bang theory(just without the Ph.D and money) has never said "Good luck!" to anyone. Mom may not admit it, but she  knows that every kitchen has to have a rooster and my little metal one in the window would not do.
We grew up with a real rooster around. Roosters are as bad as any junkyard dog when it comes to protecting your property. We also had the added bonus of a flock of guineas. It's like having a pack of attack birds when someone drives up. The rooster is the dangerous one though and he was the finisher. I don't even like to go in the bird room at the zoo now. I just know that any moment, a set of sharp spurs will come out and tear me up from head to toe.
I think the rooster is more of a symbol of how good Southern women are to their families. They are the protector. Get a mama mad and you will see the spurs (claws) will come out.  Southern women are colorful and spunky, and we are rooted deep in tradition. I know I do many things because "that's how Mama did it," and she did the same. My grandpa always called my grandma a "little banty rooster".  She was small and feisty, among other things.  I remember once when her soon-to-be-ex brother in law stopped by to tell her how much he hated her sister, she stood on her tip toes, making her about 5 feet tall,  and told him to "come here," as if she was going to whisper something. Then she slapped him in the face and told him to never say anything about anyone in her family again. He said he never did.
I like my rooster, even though I  know it isn't going to bring me good luck. It ties me to my friends who share the same views and old customs and will do anything to protect their families. It reminds me of my mother, who could bake a stunning wedding cake and deliver a baby calf all in the same afternoon.
So yes, I have a rooster. We eat black-eyed peas and cabbage on New Year's Day and we plant by the moon (sometimes). We say "bless you," when someone sneezes. I know there are many more, but I like the rooster the best.